Plans have been submitted to the London Borough of Newham by Popluo Living, for five new residential lead buildings on a 1-hectare site near the northern entrance of the Woolwich Free Ferry.
The is currently in use as temporary parking and site welfare accommodation. Pier Road is found to the east and south of the site, to the north of the Site are historical railway tracks now disused and overgrown, the disused railway line historically served the listed North Woolwich Station to the east and the Royal Victoria Gardens found further to the east.
The site has an Public Transport Access Level score of 2/3. The site is well served by the DLR, with King George V station a 5mins' walk to the North. Plans have been prepared by prepared by architects Assael, the landscape architects are Gillespies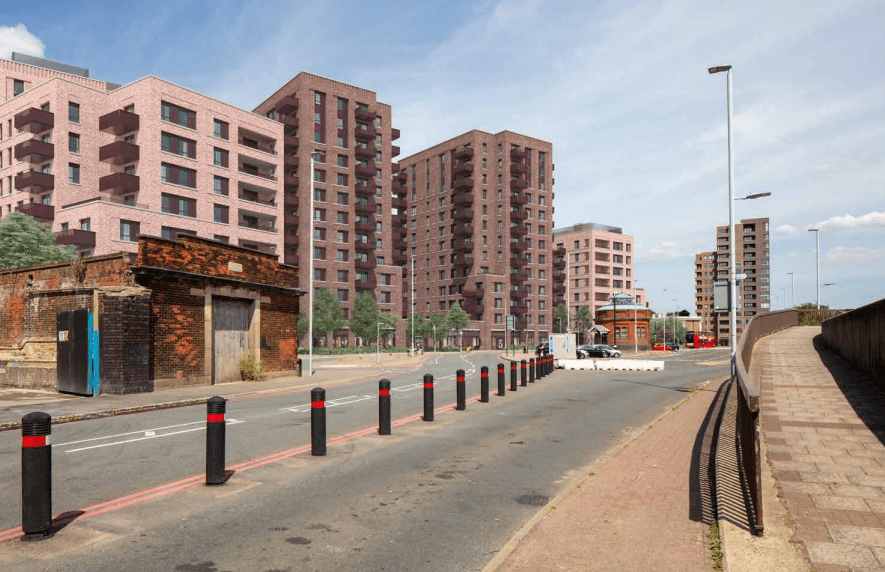 The site also has good bus links with a bus loop located directly south of the site. There are car ferry connections to south of the river via the Woolwich Ferry and foot connections, accessed via the Woolwich pedestrian tunnel.
As noted above, the scheme proposes 348 new homes, with the proposals incorporate 36.5% of affordable housing by habitable rooms and unit numbers, split 67:33, comprising 85 Social Rent and 42 London Living Rent. Within this 85 are for social rent, 42 for London Living Rent and the remaining 221 for private rental.
The ground floor of blocks B, C and E are proposed to accommodate 'maker space' units (Class E) with a total of 770.7 sqm GIA proposed.
Makerspaces are affordable artist studios for artists, designers, small businesses and start-ups, used as creative spaces, workshops and/or exhibition space. SPACE Studios are the preferred operator and have been involved in the design process to ensure what is being proposed accords with their needs.
The creation of a servicing road to the rear will allow for the development to be serviced without impacting on the existing highway. The servicing route will be known as 'Green Lane' with the intention for the road to be landscaped and used as additional amenity space for residents.
The scheme will be car-free with the exception of the 3% blue badge car parking (11 spaces) along Green Lane. Residents cycle parking will be London Plan compliant and found internally at street level or to the lower ground floor of each block for easy access and animation of the central courtyards.
639 long stay residential spaces, 22 long stay commercial spaces and 30 short stay spaces for both uses will be provided.