Revised plans have been submitted by the housing association One Housing Group to increase the number of homes from 178 to 202, an increase of 24 homes including the re-provision of 24 existing affordable homes in an area that has seen considerable densification over the last decade.
Plans prepared by architects HTA Design on behalf of applicants One Housing Association and developer Mount Anvil, if approved would supersede June 2020 plans to demolish and replace all existing homes on Byng Street and Bellamy Court.
The development proposal consists of 202 new homes which include replacement homes for all existing residents, this seeks to include 49% affordable homes by habitable room (excluding the replacement units on-site).
The increase in the number of units has been achieved through increasing the height of the tower, from 26 floors in the summer 2020 planning consent to 31 floors in the recent submission in detailed plans to the London Borough of Tower Hamlets (LBTH).
Of the Affordable Rent homes where 58 are proposed, these will be provided in 13 townhouses delivered along the entirety of Byng Street and one Manila Street, in addition to the bottom third of the purposed tower which would be increased in height by 6 floors from its current consent.
Above this will contain 36 homes for Shared Ownership and above that 108 for Market Sale, the new homes for Market Sale are likely to be sold through co-developer Mount Anvil rather than the existing freeholder One Housing housing association.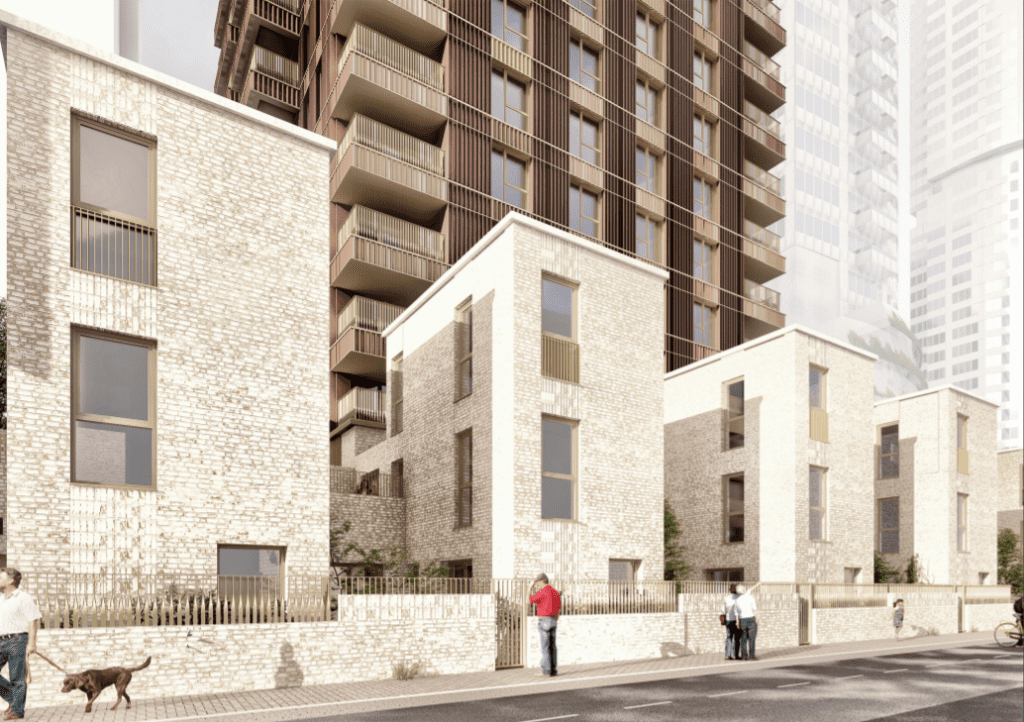 There are numerous tall buildings owers with early-stage plans through to those that have been completed and occupied.
One of the more notable schemes is Ballymore's 51-floor tower at Cuba Street, which was recently pulled by the developer over concerns over only having one stairwell particularly when it comes to fire evacuations following an intervention from the London Fire Brigade.
In addition to the over 200 new homes that could be provided as part of the planning consent that may be granted as soon as 2023, the scheme improves public realm improvements that would introduce an active travel exclusive public right of way extending from Cuba and Manilla Street in the north through the site, to where it would meet Byng Street.