Plans have been submitted for the redevelopment of the Ham Close estate in Ham, situated in the London borough of Richmond Upon Thames.
Ham Close is currently owned by Richmond Housing Partnership (RHP) and the London Borough of Richmond Upon Thames Council (LBRuT).
Hill Residential has been selected as the developer of the project.
The design team includes but is not limited to; BPTW as the masterplan and residential architect, WR-AP as the architects for the replacement community centre, and LUC as the landscape architect.
The post-war built housing estate situated between Richmond and Kingston of 4.69 hectares would be demolished, in its entirety and replaced by 452 new homes including those already there, and would vary in height between 2 and 6 floors with 50% of these being delivered as affordable housing.
The River Thames wraps the site to the north and west and the site sits between two large public green open spaces of Ham Lands and Richmond Park.
The site has a Public Transport Accessibility Level rating of 1b, the second-lowest possible score.
The master plan has been developed from the initial key concept of a green linear park running horizontally through the site on the southwest, northeast, and the surrounding Ham Village.
The so-called "green spine" is designed from the outset to connect Ham Village Green with open space at the centre, of the masterplan and enhances the existing trees on the western boundary.
Named the Linear park, the central green spine will be accessible by the public open space providing an improved visual, and landscape connection throughout the proposed development.
The scheme improves on the current site by placing car parking in a secured basement, with the street level focused on active travel links (walking and cycling, etc).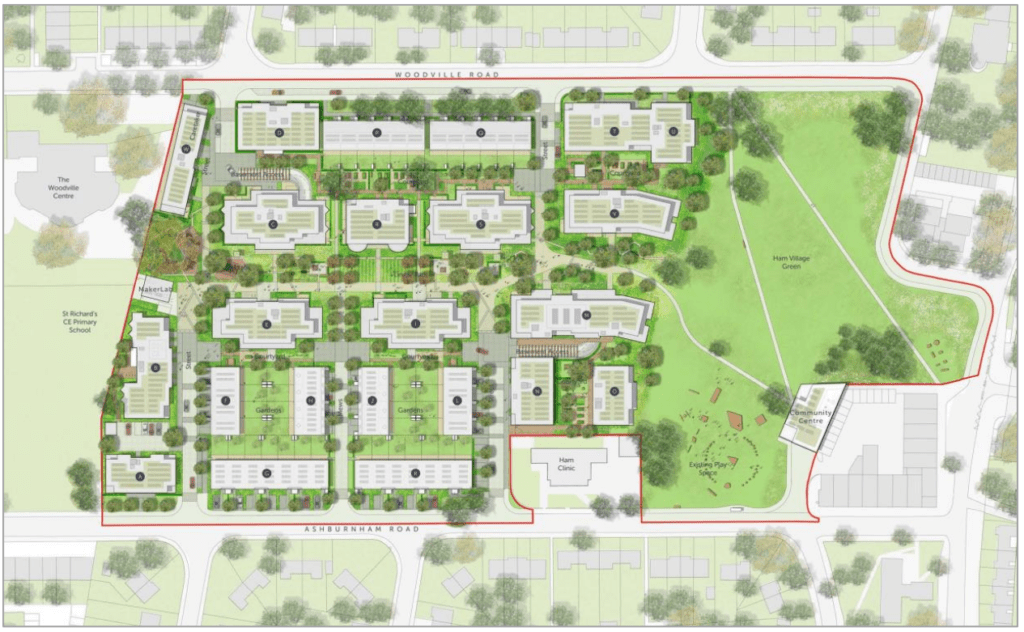 In addition to the replacement and net new homes that redevelopment would bring about, the scheme also would provide new community facilities and would be a stand-alone building purposefully set apart from the housing element of the regeneration.
Alongside the needs of the existing Youth Centre, the new community centre will also re-provide and improve on the current accommodation currently used by the local youth club for disabled young people.
The so-called "Makers Labs" will also be a stand-alone building re-providing the existing space on the site.
The Makers Labs has designed for people with an interest in DIY and craft.
The existing space includes computer facilities, electronics lab, laser cutting, 3D printing, CNC (computer numerical control) machinery, metal lathe, kitchen facilities and informal
wood shop.
For the latest news and updates, follow Constructing London on Twitter and Instagram.