Plans for the phased redevelopment of the Joyce Avenue and Snells Park Estate in Tottenham. The landowner and determining local planning authority is the London Borough of Enfield (LBE) which covers 10.11 hectares. Architects HTA Design have been appointed to produce design proposals for the site.
The estates were constructed between the late 1950s and early 1960s following post-war demand for housing in outer London, and the layout is of moderate overall housing density (84 dwellings per hectare) with large areas of undefined open space.
There are currently 795 homes on the estate, of these, 414 are affordable tenure (394 social rented homes owned by the Applicant and 20 homes managed by various Housing Associations). There are a further 24 Housing Association homes managed by Arhag that are understood to be in
private tenure. All other homes are either private free or leaseholds.
In order to contribute to its London Plan 10-year housing target of 12,460, the Council has committed to an ambitious house-building programme to deliver 3,500 new homes across the Borough over the next 10 years.
The Site has a Public Transport Accessibility Level (PTAL) which ranges from 3-5, indicating moderate to good accessibility by public transport.
The northern part of the Site is within a 5-minute walking distance of Silver Street Overground Station, which runs a regular train service to Central London.
Despite this relatively close proximity, the station is difficult to access from the Site due to the location
of existing pedestrian crossings on Sterling Way and significant level changes.
The southern part of the Site is approximately a 7-minute walk from White Hart Lane Overground Station, which operates on the same railway line as Silver Street Station.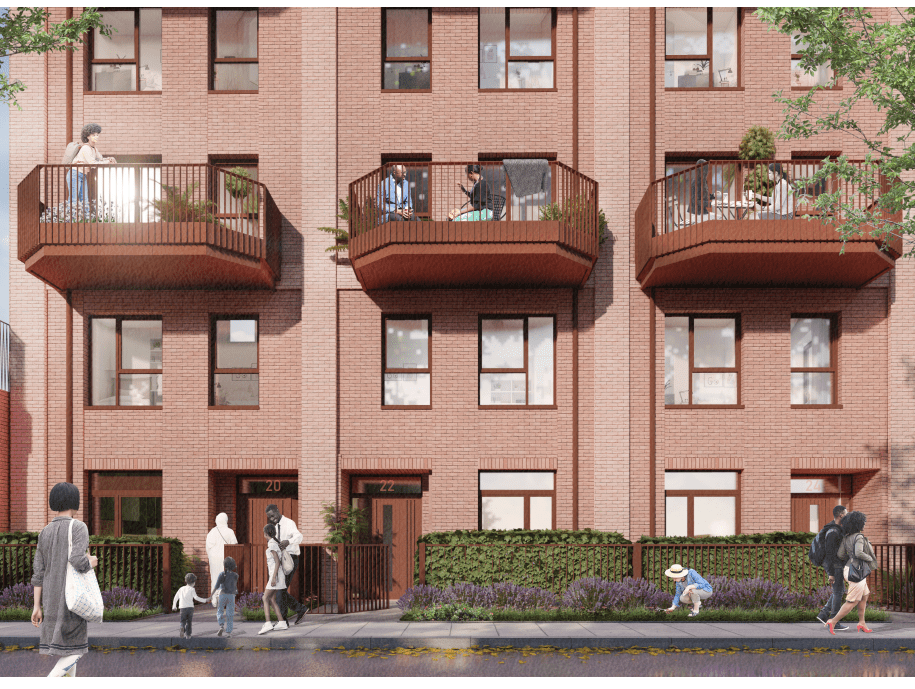 Contained the 19 new buildings and series of a more coherent green open spaces running north to south of the site, five of these buildings are set for detailed planning consent.
530 new homes are proposed within this first phase; of which 75 are for shared equity, 205 social rent replacement properties, 182 new social rent homes, 13 for shared ownership, and the remaining 55 for market sale.
In other development-related news back in June, the neighboring London Borough of Haringey approved its plans with Lendlease for the High Road West scheme; a large-scale masterplan-led redevelopment of part of the High Street to deliver up to 2,929 new homes, of which at least 500 will be for social rent.
This scheme alongside Meridian Water has been included in Enfield Council's application for an investment zone to the central government, which if approved is set to unlock funding for vital infrastructure but will make it financially viable to build.